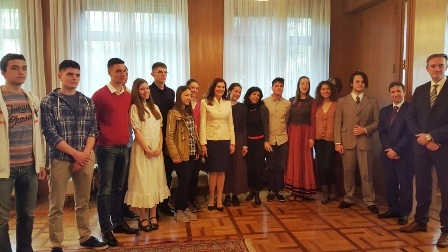 From 19 to 13 May 2016 the Women Association "Mileva Marić Einstein", has organized a visit to Switzerland for the scholars and teachers of the mathematical High School, School for Chemistry, Primary school "Jovan Sterija Popovic" of Belgrade and Primary School Negoslavci of Vukovar.
The first day of the visit the Embassy of the Republic of Serbia in Bern has received the members of the delegation. The program of the cultural travel to Switzerland consisted also in the visit of Mileva Maric Einstein's home, educational and creative workshop "Important women of Swiss and Serbian science, arts, culture and charity of the first half the 20th century", the Serbian Orthodox Church in Belp, as well as Vreneli Museum near Bern.
The visit of the delegation from Belgrade and Vukovar was organized as a part of the 140th anniversary of Mileva Maric Einstein's birthday, as well as the 100th anniversary of the opening of the first diplomatic Serbian representation in Switzerland.