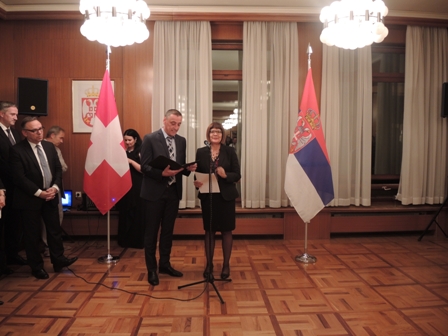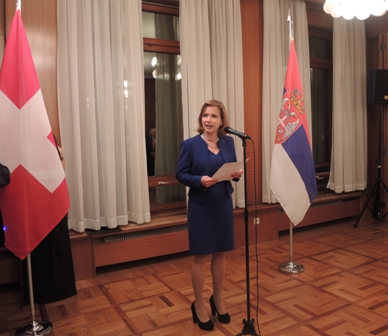 On September 27, 2016, in the Embassy of the Republic of Serbia in Bern it was held a reception to mark 100 years since the opening of the first Embassy of Serbia in the Swiss Confederation. The reception was organized in honor of the Speaker of the National Assembly of the Republic of Serbia Maja Gojkovic, who was on an official visit to Switzerland, as well as the President of the National Council of the Federal Assembly of the Swiss Confederation Christa Markwalder. The event was attended by a great number of representatives of Swiss institutions, diplomatic corps and Serbian diaspora in Switzerland.
At the beginning of the event, the Ambassador Dr. Snezana Jankovic greeted the guests, wishing them a warm welcome. She expressed her satisfaction with the fact that we are celebrating such an important anniversary as the first centenary of the opening of the Embassy of Serbia in Switzerland, emphasizing the traditional ties and good relations between our two countries.
Тhe Assistant to the Head of the Federal Department of Foreign Affairs of the Swiss Confederation Nicolas Brühl said that the bilateral relations between two countries are at the highest level and without open issues. The President of the National Council of the Federal Assembly of Switzerland Christa Markwalder emphasized the importance of parliamentary cooperation for the improvement of overall bilateral cooperation, which she opined was very good, and added that during her visit to Serbia she had the opportunity to learn firsthand of the leadership's commitment to reform.
The Speaker of the National Assembly of the Republic of Serbia Maja Gojkovic said that the anniversary is both a pledge and a duty for the future to continue to develop the friendly bilateral relations firmly grounded in a rich tradition and honest and proven friendship. She said that Serbia and Switzerland's chairmanship of the OSCE had significantly contributed to the two countries' relations, as has their intensified political dialogue at the highest level. "This testifies to the importance Serbia gives to Switzerland which our country recognizes as the model of success and good governance, as well as its wish to place cooperation with Switzerland high among its foreign policy priorities", said Gojkovic. The National Assembly Speaker said that the presence of more than two hundred Swiss companies in Serbia and last year's visit of the then Vice-President and now President of the Swiss Confederation Johann Schneider-Ammann to Serbia indicates that for Switzerland Serbia too is an important partner with which it wants to have more productive cooperation. Gojkovic also said that there is ample potential to further strengthen overall bilateral as well as parliamentary relations with Switzerland.