"Barry Callebaut", the leading producer of high quality chocolate and cocoa products from Switzerland, has laid the foundation stone of a factory in Novi Sad, Serbia. This multinational company will invest EUR 50 million in factory, which will provide 100 employees.
President of the Republic of Serbia Mr. Aleksandar Vučić, who attended the foundation stone laying, pointed out that "Barry Callebaut " is a proof of great success because the best chocolate-making technology in Europe arrives in Serbia. He pointed out that the factory in Novi Sad would be their largest and most beautiful factory in Southeast Europe, and stated that the salaries of engineers and technologists would be at European level, and the salaries of workers far above the Serbian average.
Stojan Kemera , Managing Director of Southeast Europe in "Barry Callebaut ", recently told that construction of factory in Novi Sad will take about 12 months, which means it should be open in the first quarter of next year. He also announced the "Chocolate Academy" development center, next to the factory, planned for 2,000 square meters.
Stojan Kemera emphasized that the factory will be export-oriented, but it will also be hub for all local confectioners and artisans. It expects to export EUR 150 million worth of goods annually. Antoine de St-Afrique, Chief Executive Officer of the company, stated that the factory in Novi Sad would be the regional center from which "Barry Callebaut" would supply chocolate to the Southeastern European market.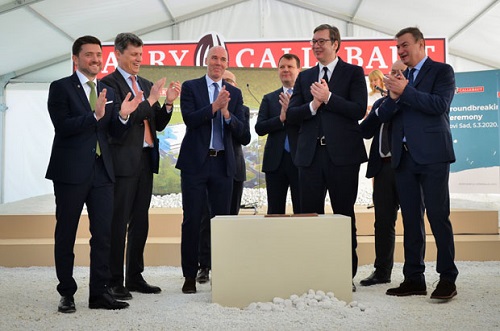 Foto: N.Karlić - Novosti.rs