Science and Technology Park in Niš was opened in the presence of the President of the Republic of Serbia Mr. Aleksandar Vučić, Prime Minister of the Republic of Serbia Mrs. Ana Brnabić and Minister of Education, Science and Technological Development Mr. Mladen Šarčević.
Science Technology Park Niš provides infrastructure and services to help innovative companies achieve business success in the market, especially in the field of high technologies.
The companies that will move to STP Niš will start working in August, with a total of 14,000 square meters at their disposal. STP Niš will including 20 start-up companies, 13 technological development companies and one company related to both - the technological development and startup part.
President Vučić stated that 12.5 million euros are invested in NTP Niš, and that total investments, including establishment of the Startup Center Niš, which will become part of STP and the laboratory lamella of the Electronic Faculty, will exceed 20 million euros.
Switzerland significantly helped the development of science and technology parks in Serbia, and Ambassador to the Republic of Serbia Serbia Mr. Philippe Guex, attended the opening of STP Niš. On that occasion, Ambassador Guex especially emphasized the friendship and solidarity of Serbia and Switzerland and stated that innovations in Serbia have become a strategic priority, not only on paper, but also in practice. He added that Switzerland is contributing to that through the project "Encouraging exports through the development of science and technology parks" with invest of 3.5 million euros. Ambassador Guex stressed that the goal is to further develop a network of science parks that will boost economic growth through innovation, as well as competitiveness and the fight against brain drain.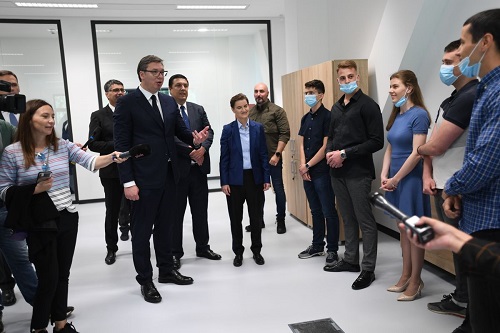 Foto: https://www.predsednik.rs/lat/pres-centar/vesti/predsednik-vucic-otvorio-naucno-tehnoloski-park-u-nisu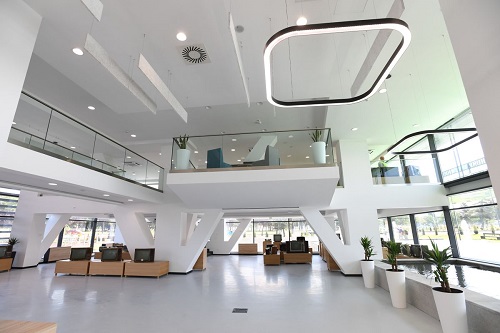 Foto: https://www.predsednik.rs/lat/pres-centar/vesti/predsednik-vucic-otvorio-naucno-tehnoloski-park-u-nisu