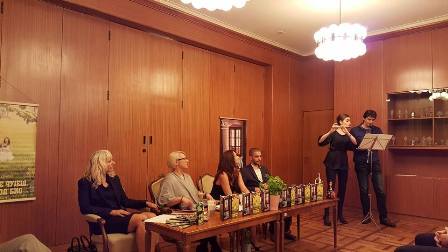 On 16. September 2016, a literary evening with Serbian writer Snezana Petrovic took place in the premises of the Embassy of the Republic of Serbia in Bern. The event was attended by an important number of representatives of the Serbian diaspora in Switzerland.
Consul Dr. Aleksandar Djurdjic greeted the guests, pointing out the importance of cultural manifestations for the preservation of Serbian traditions, culture and identity. Besides the author, in the program also participated writers Violeta Aleksic and Milena Maric Zan, flutist Ana Marija Banovic, clarinetist Stojan Krkuleski, as well as the reciter and a vocal soloist from Kragujevac Predrag Obradovic.
After the promotion, it was organized a music program and the signature of the book by its author.